What is the Global Supply Chain?
Global supply chains (GSC) are the network chains spread across multiple continents and countries for sourcing and supplying trade items to minimize overall cost and increase customer satisfaction. They involve government bodies, legal and regulatory intermediaries, local traders, and political parties with the added complexity of different import and tariff duties, custom services, and fiscal systems.
How are they different from the domestic supply chain?
Contrary to the local or domestic supply chain, which has the parties within the national boundaries, the global supply chain has its suppliers, producers, distributors, and customers spread across the globe for cost-effective and responsive deliveries. Compared to the local supply chain, GSCs provide various benefits that include reduced price due to low labour and material cost, better opportunities for innovation, higher market share, better suppliers in the competitive market, and better quality of products and services.
What are the major challenges of GSC?
GSC comes with increased managerial difficulties. The involvement of foreign firms demands a higher degree of mutual coordination. In GSC, information flow, material handling, inventory management, warehouse management, and transportation become more complex because of wider geographic scope, international laws, different languages, higher lead time, different time zones, more number of supply chain partners, quality issues, environmental standards, and socioeconomic issues.
Besides, increased globalisation and competitiveness have changed the nature of customers. Today, they demand more transparency with fast and steady deliveries. This has created an environment of innovation and technological adaptation all over the world. Moreover, supply chains have started to charter deliveries of products which seemed impossible previously. Now, products with smaller shelf life are also being transported from one corner of the world to another. All this has forced GSCs to become more resilient by making smarter investments with organizations like GS1 India for better traceability.
What is Product Traceability?
Product traceability is the ability to identify, track and trace the items or products throughout the supply chain. As the product moves from one trading partner to another, traceability system captures the information on What (is the product), When (at what time?), Who (With whom), Where (with which trading partner), and Why (why was it scanned?) about the product, and allows authorized users to securely access this information whenever they want. Product traceability is an important tool to troubleshoot product or logistics-related problems. It offers continuous monitoring, quality control, waste minimisation, systematic information sharing, and increased transparency between different parties. Product traceability also ensures accurate records of product history, which can be used to eliminate internal and external non-value-adding activities. Internal traceability refers to tracing the product within the house. For example, keeping track of products during different stages of production activity or tracing the storage location within warehouse(s). External traceability helps to know where the product is currently located between various supply chain parties. For example, it will tell if the product is being shipped from India to the USA or is received by a warehouse in Texas.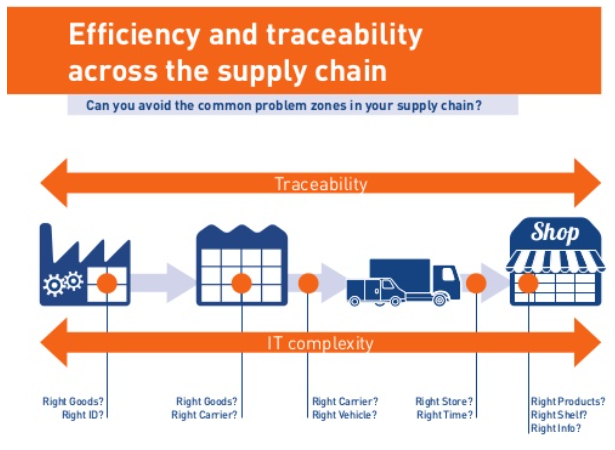 How GS1 India's traceability services are contributing to GSC management?
With numerous advantages, the global marketplace also imposes many challenges on its supply chains, and organisations actively seeking support from global standards for tackling these issues. GS1 India is helping organisations to overcome these challenges that include longer delivery time, complexity in handling extensive product portfolio, difficulties in data gathering and drawing significant business insights, imposing security, loss of control over the supply chain, non-compliance with local norms by bringing supply chain visibility. GS1 organisations have gained trust worldwide in providing efficient product traceability services.
International Organisation for Standardization (ISO) has defined Traceability in the ISO 9001 standard, which also complies with the GS1 traceability standard. With its standards-based traceability services, GS1 India helps brand owners comply with governmental regulations, global quality certifications, social and environmental accreditations by keeping track of the product, raw materials, and processes it went through. Currently, all the leading organizations have either made traceability part of their system or working towards it. According to a news article published by Forbes in 2019, Subway has 98% of its products traceable using GS1 barcodes.
GS1 India's traceability service provides infrastructure that enables MNCs to make data-driven decisions, taking competitive advantages, and building a sustainable business environment. By providing Global Trade Item Number (GTIN), GS1 helps you overcome barriers by ensuring a single code of universal product identification. The unique identification facilitates global chains to trace their products effortlessly.
Few products such as drugs and medical ingredients are highly expensive. They need a temperature-controlled environment for shipment for which traceability is inevitable. GS1 India's traceability service offer 24x7 visibility to troubleshoot issues with products and shipments.
With GS1 India's traceability service, you can manage your business activities and logistics using its efficient dashboard management. You can check the required data in visual and other desirable formats using the cloud-based traceability platform.
Was this article helpful?