Spices Board's eSpice Bazaar
The Spices Board's e-commerce portal eSpice Bazaar uses GS1
standards for its traceability module.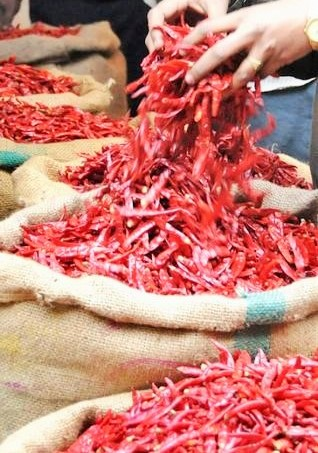 The portal is an integrated platform that facilitates visibility and exchange of information of Chilli from harvesting, growing, to trading. The objectives of the portal are to:
Provide information to farmers on global agricultural best practices
Facilitate commerce between buyers and farmers directly
Enable traceability and visibility on the yield produced and traded
To enable traceability and create credibility of the farm produce, backwards linkage from exporters to the farm level are necessary.
For this, all farms in eSpice Bazaar are identified with a unique Global Location Number (GLN) and all consignments shipped are identified with a unique Serial Shipping Container Code (SSCC) providing the foundation for traceability. More than 50,000 GLNs are expected to be utilised by the completion of this project.
Use of GLNs and SSCCs enable all trading partners – manufacturers, transporters, pack houses, retailers, etc. to have the required traceability information by linking the flow of information to physical products.
eSpice Bazaar was launched in May 2015 coinciding with the crops harvesting season and involved about 1,000 farms from the Guntur region, which accounts for about 46% of the total production in India. With this implementation, farmers also have the ability to link with other global registries like the United Nation's Blue Number platform by leveraging the farm's Global Location Number (GLN). Spices Board will be extending this traceability project to all major spices that have a global demand and are exported from India.