Blockchain is the new buzzword we are all aware of. Bitcoin and cryptocurrency are the most talked-about applications of blockchain that have raised many eyebrows in the financial sector. But beyond that, blockchain has wide applications in different fields. Supply chain management is one of them. Before going into the details of how blockchain based traceability is revolutionizing supply chain, let us understand what blockchain is and how it works.
Blockchain is an encrypted ledger of digital data that is continuously authenticated with every new change by linking transactions in the form of a chain. The entire process is automated and hence transparency and efficiency are ensured for various parties involved including – dealers, distributors, suppliers, and third parties. The information or data is stored digitally in blocks, spread over thousands or millions of computers through an integrated network having algorithms to authorise/ check the authenticity of transactions.
With each scan, a new block gets added to the chain, automatically updating the information in the distributed ledger network spread across multiple stakeholders. Hence, you don't have to manually add information, worry about manipulation or falsified information, plan against the bullwhip effect, or stand in the queue for information updates from other parties.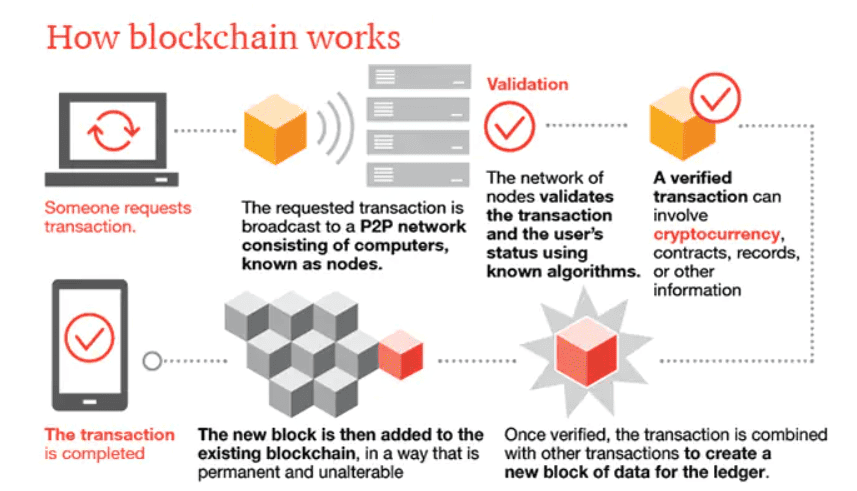 With this clarity on how blockchain works, let us see what it has to offer in supply chain management (SCM). The Council of Supply Chain Management Professionals (CSCMP) defines SCM as planning and management of sourcing, procurement, conversion/production, and management of logistics activities. It includes collaboration and coordination with multiple parties such as suppliers, distributors, stockists, other intermediaries, third-party service providers, and customers. With supply chain management becoming more complex due to globalization, competitiveness, increased number of SKUs, quality standards, etc., traceability is gaining traction.
With the help of GS1 standards and GS1 India's traceability solution, DataKartTrace, you can determine information of product in the supply chain, such as its location, source, destination, manufacturing details, expiry date or shelf life left, etc. GS1 is a trusted and authorized body founded by the Ministry of Commerce & Industry, along with apex trade bodies, to help Indian manufacturers adopt global barcoding standards. GS1 India's DataKartTrace enables continuous monitoring of a product as it moves from one node of the supply chain to another, and thus, helps in taking tactical, strategic, and real-time operational decisions. Having visibility helps make the system flexible and agile. It helps reduce time and effort by removing activities like manual recording, inaccurate pickups, inaccurate deliveries, etc., thus making the entire process much more accurate and faster.
In 2013, as per the Deloitte Global Supply Chain Risk survey, companies highlighted issues of low visibility with respect to their extended supply chains. Without traceability, one can encounter numerous challenges, such as difficulty in gathering product information, lack of product history, difficulty in complying with Regulatory norms, unstandardized information, etc. GS1 traceability standards when used along with blockchain technology help you record transactions faster and enables instant authentication.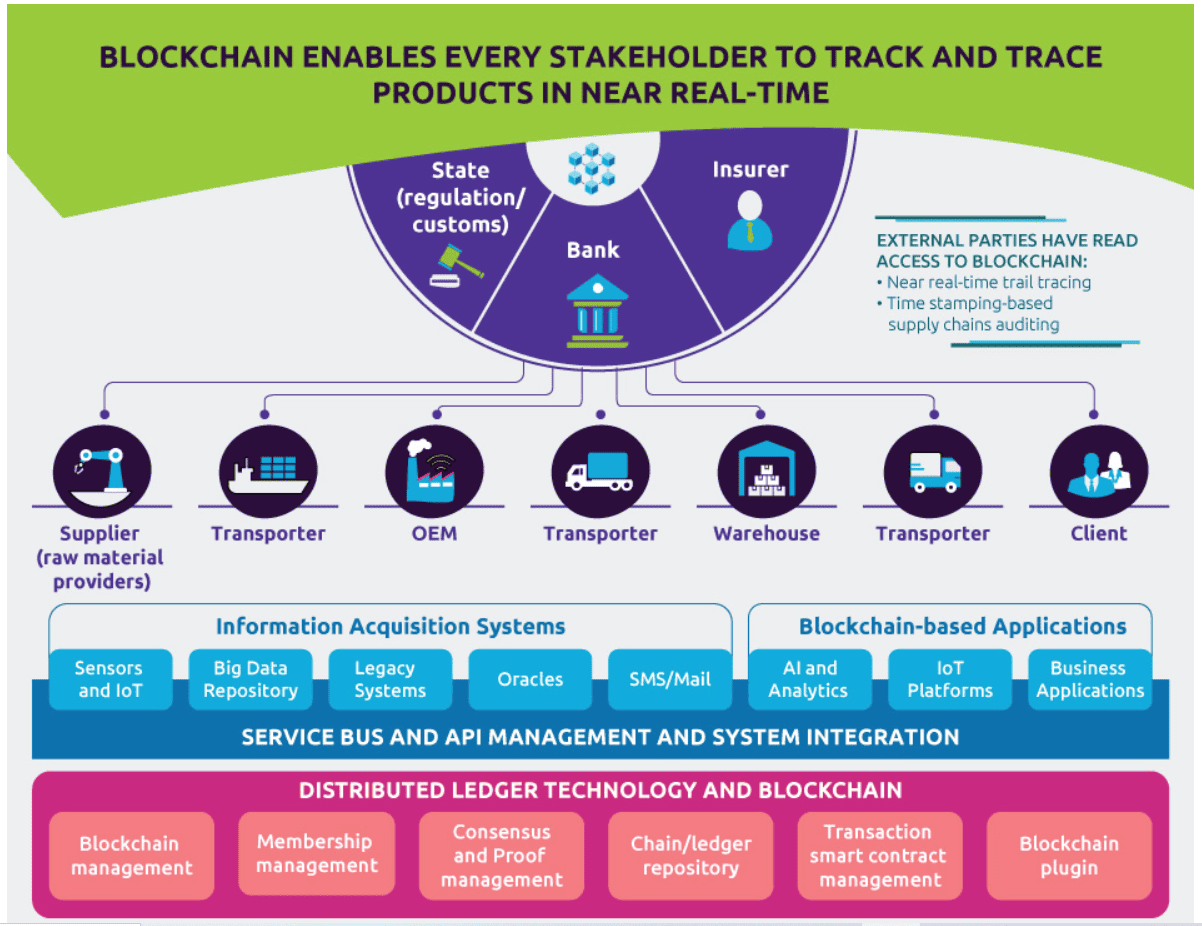 Traceability using blockchain alone does not ensure a fool-proof solution to SCM problems. For example, if the data ingested is inaccurately fed by the user, then the results will be of no use. GS1 standards can enable automatic data capture using AIDC technology and hence, making the data capture accurate. They allow users to ingest incorrect information through a simple scan. Barcodes capture unique identification of products/consignments and links the same with relevant data, such as location, temperature, etc., for effortless sharing.

Blockchain provides a distributed ledger that catalogues transactions in an immutable, time-ordered manner whereas GS1 standards record and share the accurate data in a structured format, enabling interoperability between systems.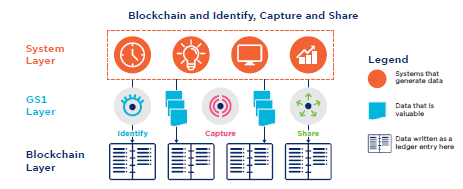 GS1 standards for identification and structured data enable blockchain users to have scalability and integrity in their supply chain. GTINs, coded into barcodes, also enable the linking of additional product information in shared/ individual systems, which can be stored securely and shared anytime.
The foundation of blockchain-enabled supply chains governed by GS1 standards promises success in the product journey from supplier to customer.
Recently, UNDP Accelerator Lab India, along with GS1 India and Spices Board have joined hands to develop a Blockchain-based Traceability, Quality Assurance, and Trading System for Indian Spices. This will enhance eSpice Bazaar platform by ensuring food safety and improved quality. The project is supported by the Cabinet Office of Japan under the Japan SDGs Innovation Challenge 2020​.
During the pilot, farms and crops are being identified uniquely using GS1 identification and capture standards. The project is aimed at providing visibility to farmers in the spices value chain and their direct access to potential buyers, which will enhance their bargaining power and profits.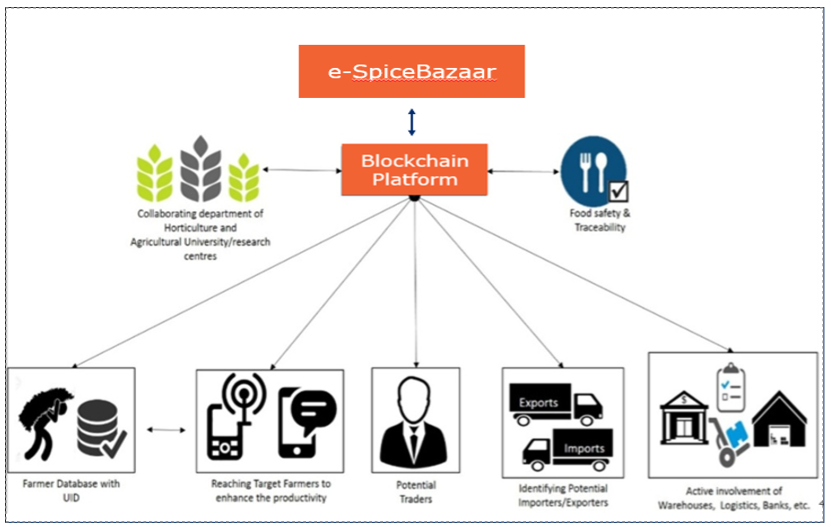 In another project, GS1 India has worked with NITI Aayog, the apex policy think-tank and change catalyst of the Government, on its pilot project that is aimed at ensuring the authenticity of pharmaceuticals using blockchain technology. The technology is used with unique identification standards of GS1.
The scope of the project enabled track and trace beyond traditional methods by allowing users to verify whether prescribed conditions for the transportation of drugs were maintained throughout the journey or not (through IoT sensors), and status was made available to stakeholders through a mobile application.
The project report titled: 'Blockchain: The India Strategy –Towards Enabling Ease of Business, Ease of Living and Ease of Governance' analyses the value of blockchain in facilitating trust in government and private sector interactions, followed by considerations for evaluating the blockchain use case for implementation. It also highlights possible challenges and lessons from NITI Aayog's experiences in blockchain implementation and showcases potential use cases that the ecosystem may consider.
Was this article helpful?