Barcode is no more an alien word for most of us. It has become a household name for people working in the e-commerce or consumer goods industry. In India, many e-commerce companies, including Amazon, are leveraging barcode numbers to list products, creating a product database, placing orders, getting sales analytics, etc. For all this to happen, this is essential that every barcode on the product is unique.
With increasing automation and digitalisation, barcodes are becoming a mode of communicating information. It enables product identification, links relevant data, and enables information sharing between different trading partners and also with consumers. Barcodes have significantly changed e-retailing. But what exactly is a barcode, and how does it work? What future does it hold in India? Why e-commerce companies are also switching from paper records to barcodes? Let us look at how the barcode is changing the e-retailing industry and find answers to the above questions.
Barcodes are encrypted machine-readable codes that store unique product ID, which is linked with critical product information ranging from product specifications, manufacturing details, source of origin and destination, order status, pricing, etc. Different barcode symbologies have different visual representations. However, the unique identification of products in all product barcodes is a Global Trade Item Number (GTIN) issued by the authorised barcode number provider — GS1.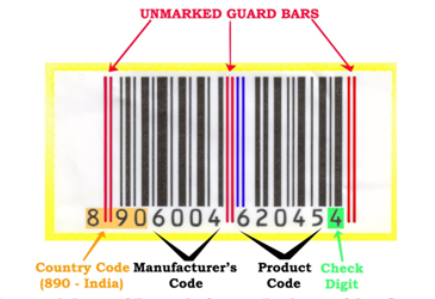 GS1 is a Global Standards organization that issues unique identification numbers to brand owners to label their products/services that are ordered, priced, or invoiced at any point in the supply chain.
In India, this is being done by GS1 India, an affiliate of GS1 Global, which provides unique numbers to brand owners in India to label their products uniquely.
Recent developments in the E-commerce industry have seen barcodes as a key factor for efficient supply chain management. Amazon, the largest e-commerce company, leverages barcode technology at its best to manage its supply chain. With markets going global and increasing competition, Amazon's e-commerce business is expanding and becoming more complex. According to Oct 2020 report, Amazon enjoys a 31.2% market share in the Indian e-commerce business. Amazon India has 300 million active users which is equivalent to twice the population of Russia.
The entire supply chain management can be divided into three domains viz. Supplier relationship Management, Internal Supply Chain Management, and Customer Relationship Management. For profitable business outcomes, it is necessary that all three domains must be managed efficiently and with mutual coordination. In this article, we will discuss how the barcodes are driving the Amazon systems with respect to each of these domains.
Supplier Relationship Management : Supplier Relationship Management (SRM) is an approach to systematically access the contribution of suppliers in your business. It helps to improve business processes by coordination and evaluation. In India, Amazon continuously monitors its suppliers/ merchants for product quality and process compliance. Amazon requires GTINs to list products on their website. It enables them to increase transparency, maintain regulatory compliance, enhanced market engagement, and ensure traceability.
There are two modes of listing products on Amazon, viz—fulfillment by Amazon (FBA) and Fulfilment by Merchant (FBM). In FBM, the merchant is responsible for handling and shipping products. While Amazon acts as a platform to sell the product, the seller directly ships them to the final customer. Using GTIN, Amazon enables the merchants to list their products on its platform, allowing them easy traceability and efficient back-end order management. On the other hand, FBA is the business model that helps suppliers and business owners use Amazon's vast logistics network spread across India to deliver products to customers. Irrespective of FBM and FBA, Amazon needs barcodes to generate a product portfolio before it goes on its website. In the case of FBA, before the product is received in the fulfillment center, they are scanned, ensuring zero error at the receiving end. After Amazon receives items from suppliers, barcodes facilitate easy operational checks such as the number of items in the shipments, quality of the product (expiry date in case of consumables or cosmetics), damaged goods received, etc. It also checks if the product is received at the correct fulfillment center or should be returned. Barcodes make the order receiving process accurate, scalable, fast, and traceable, thereby helping Amazon manage supplier relationships.
Internal Supply Chain Management: Internal supply chain management refers to the functions such as sales, distribution, inventory, and warehouse management that happens within the organization. In Amazon, these functions operate on a huge scale. Amazon India owns most of its inventory. It continuously thrives on its scalability by making investments in the latest technologies. In 2012, Amazon spent $775 million acquiring Kiva robots that use barcodes as a language for communication and order picking, sorting, and packaging operations. Amazon uses high-tech equipment and robots for warehousing operations, and barcodes are crucial elements of the system.
Barcode is a medium to communicate product information between different functions of the supply chain. They help increase efficiency in managing inventory, ensuring the security of high-value products, and enhanced visibility. Barcodes enable automation in the warehouses and reduce process cycle times by minimizing unnecessary paperwork and other administrative tasks. Besides, barcodes act as a source of big data that helps optimize warehouse management systems (WMS), Inventory planning, and logistics. The high-quality real-time data that it generates enable Amazon India to predict demands and market trends. Thus, barcode offers improved dashboard management for better predictability and supply chain resilience.
Customer Relationship Management: Customer Relationship Management (CRM) is a process in which an organization interacts with customers for improving business, typically using data analysis. Barcodes/unique codes behind it are the foundation of data analytics. Amazon invests billions of dollars in data analytics to gain business insights. Amazon's personalized recommendation system is said to account for 35% of the sales of the company. Next time you see a tailored advertisement on Amazon based on your previous orders, then thank unique product codes (GTINs).
Amazon provides hassle-free, traceable, and fast delivery to customers using ASIN barcodes. Barcodes help them track the product at any point in the supply chain to give you an accurate location and estimated delivery date. It also acts as an authentication code for contacting customer support. Barcode links relevant product information that acts as a source for generating data used to create tailored offers and promotions for customers. Amazon service agents can easily track your barcode to know and resolve your product or delivery-related issues. With its unique product identification, Barcodes makes the reverse supply chain much more manageable by ensuring product and process integrity in the entire process. It allows Amazon to use its art of technology algorithms for search engine optimization enabling customers to navigate the right product among hundreds of similar ones.
Conclusion
The e-commerce industry, mainly Amazon, advocates a promising future with its technological advancements where the barcode will be a basic amenity for world-class warehousing solutions, inventory management, product visibility, drone delivery, effortless product tracing, and efficient supply chain management. Barcode is the backbone of automation and promises error-free operations, cost savings, minimized human involvement, and low labour requirements. It is a step towards standardizing the supply chain while retaining its flexibility and mobility. But for barcodes to work, they must be unique and GS1 India ensures uniqueness through its barcoding services. Amazon being one of the most technically advancing companies in India showcases how barcodes will be an essential element of the future business environment.
Was this article helpful?